Start Children on the Path to Discovery
Children learn best when there are fewer barriers to learning. That's why Gale's popular, kid-friendly student database, Gale In Context: Elementary, matches how students naturally navigate online.
Elementary school resources like Gale In Context: Elementary give children a safe place to find answers to their questions, practice research skills, and explore interests inside and outside the classroom. It also gives teachers access to digital resources that can supplement their elementary school curriculum and enhance in-person and online instruction.
Like you, we want kids to be excited about learning, not overwhelmed! By linking library resources to the classroom, educators can make learning more engaging for students. With a simple, easy-to-navigate platform, Gale In Context: Elementary helps students gradually become comfortable with research. Elementary delivers age-appropriate, reliable, curriculum-related content that covers a broad range of subjects, like animals, geography, health, influential people, literature, social studies, sports, and technology.
Unlike other classroom databases in the market, Gale In Context: Elementary has rich visuals that are immediately welcoming to kids through grade 5. With a modern design and intuitive search functions, the Elementary database makes it easy for elementary-school children, teachers, and parents to find information related to lessons in articles, magazines, eBooks, periodicals, reference materials, and more. Plus, it gives users the option to plan fun activities around what they're learning.
Available resources include full-text proprietary content from top education publishers, like Encyclopaedia Britannica, Blackbirch Press, KidsPost from the Washington Post, Youngzine, and more. Our content is continuously updated, giving kids an easy way to search for relevant and important facts connected to current and past events.
Direct Access to Your K-5 eBooks
To make cross-searching across Gale resources easier, we've included a Books tab on the main Gale In Context: Elementary topic page. The tab connects students directly to your K-5 eBooks from Gale, offering them uninterrupted access to elementary-school content. Student eBooks not only add depth to instructional content but they also complement other resources within Elementary.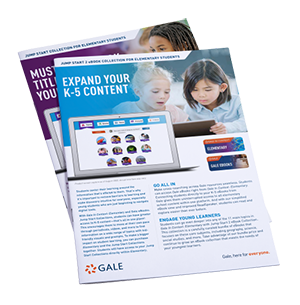 We've curated age-appropriate, fun, and engaging student eBook collections to safely introduce elementary students to the research process—and inspire a lifelong love of learning. When reading these eBooks within Gale In Context: Elementary, students benefit from a kid-friendly environment designed for them, complete with a simplified eBook viewer and ReadSpeaker at the book level.
K-5 eBook collections are an easy way to offer more eBooks based on class subjects, student interests, and your elementary school curriculum. Our favorite elementary student eBook collections, the Jump Start Collection and the Jump Start 2 Collection, include hundreds of titles that cover each of the main topics on the Gale In Context: Elementary home page. It's a simple way to add the depth of eBooks in multiple subject areas with a single purchase.
Easy-to-Find Elementary Content
Along with learning activities, Gale In Context: Elementary includes indexed, searchable content with:
More than 16,600 images to visually enhance projects
Over 1,700 charts and graphs for students to easily download and add to reports
More than 600 high-quality educational videos
Over 1,050 topic pages for "one-stop-shop" learning
All of the K-5 eBooks you have access to
Gale In Context: Elementary ensures equity and continuity for all students in your district. As part of the Gale In Context suite of resources, this database advances education to support your elementary school curriculum and give young learners the research skills they'll need in middle school, high school, and beyond.
You can also leverage your Gale In Context student databases by adding Gale In Context: For Educators. This specialized tool kit lets all school educators collect, organize, customize, and share resources from their school's library subscribed Gale In Context databases.
FEATURED RESEARCH
In a nationwide study conducted by Project Tomorrow®, 100 percent of grade school teachers said their primary goal is to differentiate instruction for young learners.
subjects covered
Arts and Music
Animals
People
Plants
Geography
Health
Literature
Science
Technology
Social Studies
Sports
Platform Features & Tools
I WONDER . . .
Continuously updated "I Wonder . . ." questions located on the home page engage kids and draw them into subject areas.
LEVELED CONTENT
Leveled topic overviews provide users with both a basic and advanced version of the same overview, allowing educators to differentiate instruction.
Workflow Tools
Google Workspace for Education and Microsoft 365 tools enable users to share, save, and download content—including highlights and notes. Learn More
"The interface is clean and intuitive and the content timely. Whether as an environment for teaching younger students about database searching or providing a platform for exploring on their own, for informal browsing or for targeted searching, Gale In Context: Elementary is an excellent resource."
"For those interested in personalizing education, allowing students to read about people from their culture, and seeing history from multiple perspectives, this resource is terrific. Gale In Context: Elementary also allows teachers to share curated resources and primary sources with students. This phenomenal tool enables culturally relevant teaching, which is a great need in schools today."
"We definitely prefer Gale In Context: Elementary in terms of what we can do in the very short time we have for library class. The read-aloud option and ability to translate the content into any given language . . . that's what made us realize just how amazing the accessibility features are."
"I love the browsing ability that comes with Gale In Context: Elementary. Introducing our students to research and synthesis skills using topics they are interested in results in much deeper engagement compared to assigning students a research topic while attempting to teach these difficult skills."
"It was fun to introduce the students to Gale In Context: Elementary. They were surprised that this reliable information was available to them at school and at home."
"I like using Gale In Context: Elementary. It has lots of things I never knew! It was funner learning on Gale In Context: Elementary!!!!!! I definitely didn't know that Texas has a Tornado Alley."
"Schools will find that this resource [Gale In Context: Elementary] meets the research needs of younger students in one developmentally appropriate package."
"This database [Gale In Context: Elementary] is an absolute winner. The intuitive interface, attractive layout, and substantive, tiered content make this valuable resource appropriate for a wide range of students."