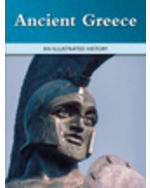 Ancient Greece
Publisher
Marshall Cavendish
Sign in for Price
Publisher

Marshall Cavendish

Grade Level

4th Grade - 8th Grade

Front Cover.
Title Page.
Copyright Page.
Contents.
Foreword.
1: Bronze Age Greece.
2: The Minoans.
3: Mycenae and Troy.
4: The Dark Age and Greek Expansion.
5: Sparta and Athens.
6: From Tyranny to Democracy.
7: Greek Religion.
8: The Birth of Drama.
9: The Persian Wars.
10: The Age of Pericles.
11: The Great Philosophers.
12: The Peloponnesian War.
13: Macedon and Alexander the Great.
14: After Alexander.
15: The Greek Legacy.
Glossary.
Major Historical Figures.
Index.