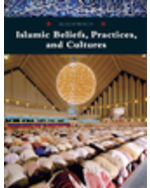 Islamic Beliefs, Practices, and Cultures
Publisher
Marshall Cavendish
Sign in for Price
Publisher

Marshall Cavendish

Grade Level

6th Grade - 12th+

Front Cover.
Title Page.
Copyright Page.
Contents.
Contributors and Consultants.
Foreword.
1: Defining Islam and Muslims.
2: Focus: The Life of Muhammad.
3: Brief History of Islam.
4: Focus: European Colonies and Decolonization in the Islamic World.
5: Beliefs.
6: Focus: Peoples of the Book.
7: Practices.
8: Focus: Defining Jihad.
9: Scriptures and Doctrine.
10: Focus: Translating the Koran.
11: Subdivisions of Islam.
12: Focus: Mystical Islam.
13: Muslim Calendar, Holy Days, and Festivals.
14: Focus: Eid Al-Fitr.
15: Holy Places.
16: Focus: Jerusalem.
17: Visual Arts.
18: Focus: Arts Festivals.
19: Architecture.
20: Focus: Islam and Architecture in the United States.
21: Literature.
22: Focus: Women Writers.
23: Performing Arts.
24: Focus: Comedy and Islam.
25: Media.
26: Focus: Al-Jazeera.
27: Philosophy and Science.
28: Focus: Contemporary Trends in Islamic Philosophy.
Glossary.
Further Reading and Research.
Index.