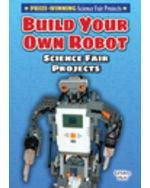 Prize-Winning Science Fair Projects: Build Your Own Robot Science Fair Project
Publisher
Enslow Publishing
Sign in for Price
Publisher

Enslow Publishing

Grade Level

6th Grade - 12th Grade

Front Cover.
Title Page.
Dedication.
Copyright Page.
Contents.
Acknowledgments.
Introduction.
1: Learn About Robots.
2: Learn About Electric Motors.
3: How to Modify Servos.
4: Add Some Wheels.
5: Build a Robot Platform.
6: Supply Electrical Power.
7: Control the Robot's Motion.
8: What Else Can the Robot Do?.
9: Robot Competitions and Science Fair Projects.
Appendix A Robot Kits and Supplies.
Appendix B Other Approaches to Robotics.
Appendix C Robotics Clubs and Organizations.
Further Reading.
Web Sites.
Index.