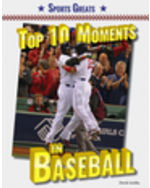 Sports Greats: Top 10 Moments in Baseball
Publisher
Enslow Publishing
Sign in for Price
Publisher

Enslow Publishing

Grade Level

6th Grade - 8th Grade

Front Cover.
Title Page.
Copyright Page.
Contents.
Introduction.
1: Smashing the Color Barrier.
2: The Shot Heard 'Round the Worid.
3: Maz's Mighty Blast.
4: Waving Boston to Victory.
5: The New Home Run King.
6: Gibby's "Impossible" Homer.
7: Carter's World Series Walk-Off.
8: Breaking the "Unbreakable" Record.
9: "You Gotta Believe!".
10: Putting the Freese on Texas.
Glossary.
Further Reading.
Index.