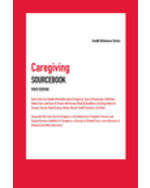 Health Reference Series: Caregiving Sourcebook
Sign in for Price
Front Cover.
Half Title Page.
Title Page.
Copyright Page.
Table of Contents.
Preface.
1: Understanding Caregiving.
2: Overview of Caregiving and Caregivers.
3: Types of Caregivers.
4: Family and Informal Caregiving.
5: Long-Distance Caregiving.
6: Long-Term Care.
7: Coping with Caregiving.
8: Child Care.
9: Child Care Options.
10: Helping Your Child: Tips for Parents and Other Caregivers.
11: Choosing Quality Child Care for Your Children.
12: Ensuring Safe and Healthy Child Care.
13: Care of the Premature Infant.
14: Caring for a Child with a Disability.
15: Paying for Child Care.
16: Child Abuse and Prevention.
17: Elderly Care.
18: Aging and Its Effects.
19: Aging in Place: Growing Older at Home.
20: What Are the Signs That an Aging Parent Needs Help?.
21: Oral Health and Aging: Information for Caregivers.
22: Keep Older Adults Safe from Injury.
23: Elder Abuse and Prevention.
24: Caregiving for Major Diseases and Conditions.
25: COVID-19.
26: Alzheimer Disease and Dementia.
27: Cancer.
28: Chronic Heart Disease.
29: HIV/AIDS.
30: Stroke.
31: Traumatic Brain Injury.
32: Care for Mental-Health Disorders.
33: Care for People with Alcohol and Drug Problems.
34: Palliative and Hospice Care.
35: End-of-Life Care.
36: Well-Being of Caregivers.
37: Caregiving: A Public-Health Priority.
38: How Does Caregiving Affect the Caregiver?.
39: Self-Care for Caregivers.
40: Balancing Work and Caregiving.
41: Spirituality in Caregiving.
42: Support Services for Caregivers.
43: Caring for Our Hospital Workers.
44: Resources for Caregivers.
45: Activities, Programs, and Policies to Support Caregivers.
46: Caregiver Programs and Services.
47: National Family Caregiver Support Program.
48: Program of General Caregiver Support Services.
49: The Affordable Care Act.
50: Additional Help and Information.
Glossary of Terms Related to Caregiving.
Directory of Resources Related to Caregiving.
Index.