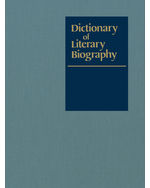 Dictionary of Literary Biography: Twenty-First-Century American Poets, Third Series
Sign in for Price
Related Series

Dictionary of Literary Biography Series

Plan of the Series.
Preface.
John Ashbery (1927- ) by Antonio J. Jimenez-Munoz.
Scott Cairns (1954- ) by David C. Wright.
Interview with Scott Cairns.
Tina Chang (1969- ) by Naglaa Saad Mohamed Hassan.
Interview with Tina Chang.
Geraldine Connolly (1947- ) by Naglaa Saad Mohamed Hassan.
Interview with Geraldine Connolly.
W. S. Di Piero (1945- ) by Averill Curdy.
Interview with W. S. Di Piero.
B. H. Fairchild (1942- ) by John Cusatis.
Interview with B. H. Fairchild.
Frank X. Gaspar (1946- ) by Reinaldo Francisco Silva.
Louise Gluck (1943- ) by Patrick Whitfill.
Ronald Koertge (1940- ) by Charles Harper Webb.
Interview with Ronald Koertge.
Ted Kooser (1939- ) by Matthew C. Brennan.
Interview with Ted Kooser.
Thomas Lux (1946- ) by George Parker Anderson.
Interview with Thomas Lux.
Campbell McGrath (1962- ) by Bob Bell.
Interview with Campbell McGrath.
Marilyn Nelson (1946- ) by Lisa Sewell.
Interview with Marilyn Nelson.
Naomi Shihab Nye (1952- ) by Roberto Bonazzi.
Interview with Naomi Shihab Nye.
Michael Ryan (1946- ) by Amy Katherine Cannon.
Interview with Michael Ryan.
Charles Simic (1938- ).
Interview with Dana Gioia.
Ten Poets Talk Bob Dylan, the 2016 Nobel Laureate in Literature.
Books for Further Reading.
Contributors.
Cumulative Index.