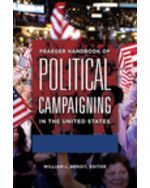 Praeger Handbook of Political Campaigning in the United States
Sign in for Price
Grade Level

9th Grade - 12th Grade

Front Cover.
Half Title Page.
Title Page.
Copyright Page.
Contents.
Introduction.
Foundations.
1: How It All Began: The Origins of Presidential Campaigning in the United States.
2: The Evolution and Character of Presidential Campaign Advertising.
3: Presidential Primaries and General Election Campaigns: A Comparison.
4: Agenda Setting in American Political Campaigning.
5: Framing Campaigns in U.S. Presidential Elections: What Has Been Done So Far and a Future Agenda.
6: American Campaign Finance Laws.
7: Political Marketing: The Multidisciplinary Approach.
Campaign Media.
8: American Political TV Spots.
9: American Political Campaign Debates.
10: Videostyle in American Campaigns.
11: Entertainment Television and Political Campaigns: The Political Satire Appropriateness (PSA) Model.
12: Social Media and Elections.
13: Radio, Politics, and Elections.
14: Internet and Elections.
15: News Coverage of U.S. Presidential Campaigns: Reporting on Primaries and General Elections, 1988–2012.
16: Newspaper Coverage of American Political Campaigns.
17: Nonpresidential Political Campaigns.
Selected Bibliography.
About the Editor and Contributors.
Volume 1 Index.