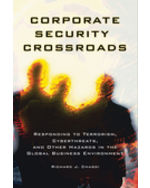 Corporate Security Crossroads: Responding to Cyberthreats and Other Hazards in the Global Business Environment
Sign in for Price
Grade Level

9th Grade - 12th Grade

Front Cover.
Title Page.
Copyright Page.
Dedication.
Contents.
Foreword.
Acknowledgments.
1: Conceptualization of Risk to Multinational Corporations in a World of Intensive Globalization.
2: Relationships between Traditional Terrorism, Virtual World Threats, and the International Political System: Impact on International Business.
3: Tides of Terrorism: Historical Retrospectives on the Jewish Sicarri, the Thugs in India, and Methodological Considerations for Contemporary Threat Analysis.
4: The Case of the Tigantourine Gas Plant Terrorist Assault in Algeria: A Complexity Systems Analysis.
5: The Case of the Mombasa Terrorist Assaults in Kenya: A Complexity Systems Analysis.
6: The Radicalization Spectrum: Apolitical and Political Threat Conceptualization and Lone Wolf Attribute Analysis.
7: Conclusions.
Appendix I Terrorist Business Target Preferences: Algeria, Niger, and Mauritania, 2003–2013.
Appendix II Lone Wolf Terrorist Data.
Notes.
Index.
About the Author.