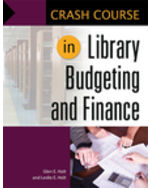 Crash Course in Library Budgeting and Finance
Publisher
Libraries Unlimited
Sign in for Price
Publisher

Libraries Unlimited

Grade Level

9th Grade - 12th Grade

Related Series

Gale eBooks: Librarianship

Front Cover.
Half Title Page.
Recent Titles in Libraries Unlimited Crash Course Series.
Title Page.
Copyright Page.
Contents.
Illustrations.
Introduction.
1: Introduction to Library Money.
2: Financial Literacy in the United States.
3: Financial Aliteracy of Librarians.
4: The National Economy and Library Continuity.
Building Financial Infrastructure for Your Library.
5: Electronic Communications: How Computers Are Changing Library Finance.
6: Legal Context: Basic Rules You Need to Know.
7: Professional Advice.
Strategic Financial Planning.
8: Annual Report as a Starting Point.
9: Purpose Documents as a Starting Point for Financial Planning.
Budget Basics.
10: Budget Planning.
11: Basic Library Budget Language.
Income.
12: Shifts in Library Service Demands and Income.
13: Primary Sources of Income.
14: Ways to Increase Funding.
15: Fundraising.
16: Other Sources of Donations.
17: Earned Income.
Spending and Expenses.
18: Dispelling Financial Mythologies.
19: Purchasing: Your Part in Spending Library Funds.
20: Staff Costs.
21: Capital Expenses.
22: Acquisition of Materials.
23: Other Expenses.
Assessment and Evaluation.
24: Evaluating the Budget.
Communication about Money.
25: Communicating Library Financial Principles.
Glossary.
Selected Bibliography.
Index.
About the Authors.