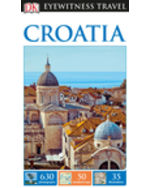 DK Eyewitness Travel Guide: Croatia
Sign in for Price
Grade Level

4th Grade - 6th Grade

Front Cover.
Half Title Page.
Title Page.
Copyright Page.
Contents.
How to Use This Guide.
Introducing Croatia.
1: Discovering Croatia.
2: Putting Croatia on the Map.
3: A Portrait of Croatia.
4: Croatia Through the Year.
5: The History of Croatia.
Croatia Area by Area.
6: Croatia at a Glance.
7: Istria and the Kvarner Area.
8: Dalmatia.
9: Zagreb.
10: Central Croatia.
11: Slavonia and Baranja.
12: The Northern Counties.
Travellers' Needs.
13: Where to Stay.
14: Where to Eat and Drink.
15: Shopping in Croatia.
16: Entertainment in Croatia.
17: Outdoor Activities.
Survival Guide.
18: Practical Information.
19: Travel Information.
General Index.
Acknowledgments.
Phrase Book.