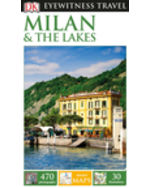 DK Eyewitness Travel Guide: Milan & the Lakes
Sign in for Price
Grade Level

4th Grade - 6th Grade

Front Cover.
Title Page.
Milan's Underground Network and Urban Railway System.
Copyright Page.
Contents.
How to Use this Guide.
Introducing Milan.
1: Great Days in Milan and the Lakes.
2: Putting Milan on the Map.
3: The History of Milan.
4: Milan at a Glance.
5: Milan Through the Year.
Milan Area by Area.
6: Historic Centre.
7: Northwest Milan.
8: Southwest Milan.
9: Southeast Milan.
10: Northeast Milan.
11: Two Guided Walks in Milan.
The Lakes of Northern Italy.
12: The Lakes of Northern Italy.
13: Exploring the Lakes.
14: Lake Maggiore.
15: Lake Como.
16: Lake Garda.
17: The Smaller Lakes.
Travellers' Needs.
18: Where to Stay.
19: Where to Eat and Drink.
20: Bars and Cafés.
21: Shops and Markets.
22: Entertainment in Milan.
23: Entertainment at the Lakes.
Survival Guide.
24: Practical Information.
25: Travel Information.
Milan Street Finder.
General Index.
Acknowledgments.
Phrase Book.