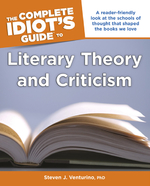 The Complete Idiot's Guide to Literary Theory and Criticism
Sign in for Price
Author

Steven J. Venturino

Grade Level

9th Grade - 12th+

Related Series

Be the go-to for The Beginner
eBook Titles for The Beginner

Front Cover.
Title Page.
Copyright Page.
Contents.
Introduction.
1: Basic Ingredients and Useful Terms.
2: It's Just a Theory.
3: What's the Word for That, Again?.
4: In Theory, How Do You Read?.
5: New Criticism Looks Very Closely.
6: Russian Formalism Fixates on the Machinery.
7: Reader-Response Criticism Watches Itself.
8: Aristotle and Friends Plot the Course.
9: What Is Literature, Anyway?.
10: Plato's Fundamental Gripe Against Literature.
11: The Romantics Get Defensive.
12: Marx Sees Through the Material World.
13: Freud Sees a Symptom.
14: Saussure and Science Settle Into a Good Read.
15: Hey, Whose Book Is This?.
16: Feminist Theories Change the Game.
17: Gender and Queer Theories Read Desire.
18: Ethnic Studies Changes the Key.
19: Disability Studies Gets Physical.
20: Try to Watch Your Language.
21: Structuralism Senses a Pattern Here.
22: Deconstruction Says It's Not What You Think.
23: Psychology Brings Linguistics to the Couch.
24: In the World and of the World.
25: Cultural Studies Tries to Ruin a Good Time.
26: History Gets Literary.
27: Postcolonial Criticism Flaunts the Fashions.
28: Ecocriticism Offers a Word from Our Sponsor.
Glossary.
Index.
Other Backmatter.
About the Author.