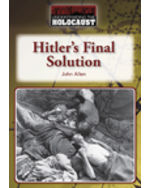 Understanding the Holocaust: Hitler's Final Solution
Publisher
ReferencePoint Press
Sign in for Price
Publisher

ReferencePoint Press

Grade Level

6th Grade - 12th Grade

Front Cover.
About the Author.
Copyright Page.
Contents.
Important Events of the Holocaust.
Introduction: A Speech on an Age-Old Hatred.
1: Hatred and Exclusion.
2: Persecution.
3: Expulsion.
4: Annihilation.
5: Liberation of the Camps and Aftermath.
Source Notes.
Important People.
For Further Research.
Index.