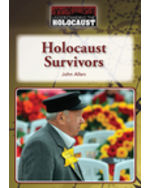 Understanding the Holocaust: Holocaust Survivors
Publisher
ReferencePoint Press
Sign in for Price
Publisher

ReferencePoint Press

Grade Level

6th Grade - 12th Grade

Front Cover.
About the Author.
Copyright Page.
Contents.
Important Events of the Holocaust.
Introduction: A Miraculous Reunion.
1: Ways of Survival.
2: Searching for Lost Family Members.
3: A New Life in a New Country.
4: Plight of the Orphans.
5: Quest for Truth and Justice.
Source Notes.
Important People.
For Further Research.
Index.