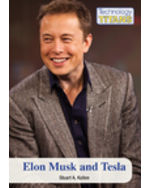 Technology Titans: Elon Musk and Tesla
Publisher
ReferencePoint Press
Sign in for Price
Publisher

ReferencePoint Press

Grade Level

6th Grade - 12th Grade

Front Cover.
Other Frontmatter.
Title Page.
Copyright Page.
Contents.
Introduction: Solving Problems for Humanity.
1: The Wonder Years.
2: PayPal Payoff.
3: Launching SpaceX.
4: Tesla Motors.
Source Notes.
Important Events in the Life of Elon Musk.
For Further Research.
Index.
Picture Credits.
About the Author.