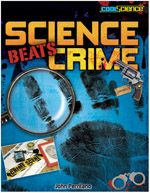 Science Beats Crime
Publisher
Marshall Cavendish
Sign in for Price
Publisher

Marshall Cavendish

Grade Level

4th Grade - 6th Grade

Front Cover.
Title Page.
Copyright Page.
Contents.
1: Scene of the Crime.
2: Crime Busters.
3: Pointing the Finger.
4: The Incredible World of DNA.
5: The Science of Ballistics.
6: Without a Trace.
7: The Body Farm.
8: True Blood.
9: Going Buggy.
10: Who Are You?.
11: No Bones About It!.
12: The Future of Forensics.
Glossary.
Find Out More.
Index.