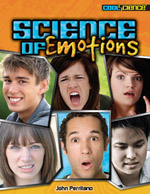 Science of Emotions
Publisher
Marshall Cavendish
Sign in for Price
Publisher

Marshall Cavendish

Grade Level

4th Grade - 6th Grade

Front Cover.
Title Page.
Copyright Page.
Contents.
1: A Roller Coaster of Emotions.
2: What Are Emotions?.
3: The Six Basic Emotions.
4: Your Emotional Intelligence.
5: The Chemical Connection.
6: Emotions and the Brain.
7: Theories on Emotion.
8: Logic and Emotion.
9: What Shapes Emotions?.
10: Outside Influences.
11: Extreme Emotions.
12: Managing Emotions.
Glossary.
Find out More.
Index.