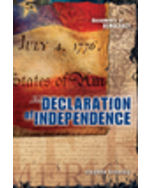 Declaration of Independence
Publisher
Marshall Cavendish
Sign in for Price
Publisher

Marshall Cavendish

Grade Level

6th Grade - 12th Grade

Front Cover.
Half Title Page.
Title Page.
Dedication.
Copyright Page.
Contents.
A Call for Liberty.
1: Welcome to the New World.
2: A Formidable Juggling Act.
3: The News Travels Far and Wide.
Conclusion.
The Declaration of Independence: From the U.S. National Archives & Records Administration.
Notes.
For Further Information.
Selected Bibliography.
Index.
About the Author.