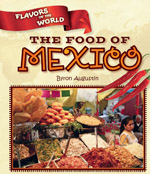 Food of Mexico
Publisher
Marshall Cavendish
Sign in for Price
Publisher

Marshall Cavendish

Grade Level

4th Grade - 6th Grade

Related Series

Gale eBooks: Hispanic Heritage

Front Cover.
Title Page.
Copyright Page.
Contents.
1: Welcome to Mexico.
2: Mexico's Food Regions.
3: Daily Life.
4: Festivals and Traditions.
5: Health and Nutrition.
Glossary.
Find Out More.
Index.
About the Author.