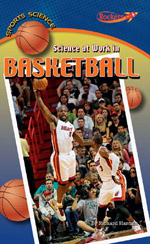 Science at Work in Basketball
Publisher
Marshall Cavendish
Sign in for Price
Publisher

Marshall Cavendish

Grade Level

4th Grade - 6th Grade

Related Series

Be the go-to for the Summer Reader - Elementary School

Front Cover.
Title Page.
Copyright Page.
Contents.
1: Air Ball.
2: Gravity Works.
3: Set, Jump, Score.
4: Floor and Rim.
Glossary.
Find out More.
Index.
About the Author.