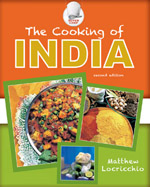 Cooking of India
Publisher
Marshall Cavendish
Sign in for Price
Author

Matthew Locricchio

Publisher

Marshall Cavendish

Grade Level

6th Grade - 8th Grade

Front Cover.
Half Title Page.
Dedication.
Copyright Page.
Title Page.
Contents.
Other Frontmatter.
From the Author.
1: Before You Begin.
2: A Word about Safety.
3: Cooking Terms.
4: The Regions of India and How They Taste.
5: Soups.
6: Chicken Stock Yakhni.
7: Ginger and Peanut Soup Moongphali Shorva.
8: Bread, Chutneys, Cheese, and Cooking Oil.
9: Indian Bread Chapati.
10: Banana and Date Chutney Keta aur Kajur Chutney.
11: Carrot Chutney Gajar ki Chutney.
12: Cilantro and Yogurt Chutney Hari Chutney.
13: Fresh Indian Cheese Paneer.
14: Indian Clarified Butter Usli Ghee.
15: Rice Dishes and Spice.
16: Plain Indian Rice Chaval.
17: Royal Rice and Vegetables Ratan Pulao.
18: Rice and Lentil Hodgepodge Khichri.
19: Indian Spice Mixture Garam Masala.
20: Vegetable Dishes.
21: Garden Vegetable Stew with Coconut Avival.
22: Spinach Saag.
23: Fresh Indian Cheese with Peas, Tomatoes, and Mint Matar Paneer.
24: Main Dishes.
25: Lamb Curry Shahi Gosht.
26: Spicy Chicken Bhooni Murgh.
27: Pork Tenderloin from Goa Vindaloo.
28: Fish and Coconut Stew Kerala Meen Molee.
29: Desserts and Drink.
30: Sesame Nut Cookies Til Ladoos.
31: Sweet Rice Pudding Kheer.
32: Strawberry and Yogurt Drink Lassi.
Helpful Kitchen Equipment and Utensils.
Essential Ingredients in the Indian Kitchen.
Find out More.
Metric Conversion Chart.
Index.
About the Author.