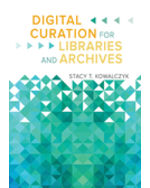 Digital Curation for Libraries and Archives
Publisher
Libraries Unlimited
Sign in for Price
Author

Stacy T. Kowalczyk

Publisher

Libraries Unlimited

Grade Level

9th Grade - 12th Grade

Related Series

Gale eBooks: Librarianship

Front Cover.
Half Title Page.
Title Page.
Copyright Page.
Dedication.
Contents.
Illustrations.
Preface.
Preservation Overview.
1: Introduction To Digital Curation.
2: Curation Strategies and Models.
Preservation Technology Fundamentals.
3: Formats.
4: Metadata For Curation.
5: Data Assurance.
6: Repositories.
Planning for Preservation.
7: Data Management.
8: Disaster Planning.
9: Digital Curation Assessment and Planning.
Preservation in Practice.
10: Considerations In Archiving Personal Data.
11: Considerations In Archiving Social Media.
12: Considerations In Curating Research Data.
Glossary.
A Handbook for Teachers.
Author Index.
Subject Index.
About the Author.