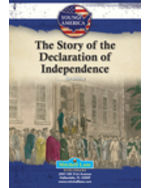 The Story of the Declaration of Independence
Sign in for Price
Grade Level

3rd Grade - 6th Grade

Front Cover.
Copyright Page.
Contents.
1: Finding Humor in Hanging.
2: The Road to Revolution.
3: Thomas Jefferson Writes the Declaration.
4: What Does the Declaration of Independence Actually Declare?.
5: The Declaration's Travels and Travails.
Appendix: The Declaration and Its Signers.
Chapter Notes.
Other Backmatter.
Further Reading.
Works Consulted.
Glossary.
Index.
About the Author.