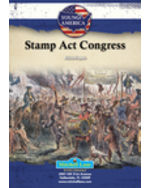 Stamp Act Congress
Sign in for Price
Grade Level

3rd Grade - 6th Grade

Front Cover.
Copyright Page.
Contents.
1: Angry Colonists.
2: The Colonies Take Action.
3: The Stamp Act Congress Convenes.
4: The Declaration of Rights.
5: Repeal of the Stamp Act and Colonial Unity.
Appendix 1: Delegates to the Stamp Act Congress.
Appendix 2: Original Source Documents.
Chapter Notes.
Further Reading.
Works Consulted.
Other Backmatter.
Glossary.
Index.
About the Author.