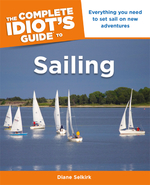 The Complete Idiot's Guide to Sailing
Sign in for Price
Related Series

Be the go-to for The Retiree
Be the go-to for The Beginner
eBook Titles for The Beginner

Front Cover.
Title Page.
Dedication.
Copyright Page.
Contents.
Introduction.
1: Getting Started in Sailing.
2: Before You Set Sail.
3: Weather and Whatnot.
4: Tides, Currents, and You.
5: Basic Boat Handling.
6: Basic Sailing Skills.
7: Heading Out.
8: Anchoring Your Boat.
9: Sailing Safely.
10: Coping with Emergencies.
11: Getting Where You're Going.
12: Paper Navigating.
13: Marine Electronics.
14: Rules of the (Watery) Road.
15: Learning the Ropes.
16: Leaving Her Shipshape.
17: Common Basic Repairs.
18: Finding the Right Boat.
Appendixes.
Glossary.
Resources.
Index.
Other Backmatter.
About the Author.