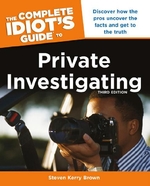 The Complete Idiot's Guide to Private Investigating
Sign in for Price
Author

Steven Kerry Brown

Related Series

Be the go-to for The Beginner
eBook Titles for The Beginner

Front Cover.
Title Page.
Dedication.
Copyright Page.
Contents.
Introduction.
1: Private Investigation, Business or Fun?.
2: The Making of a PI.
3: The Path to the Professional PI.
4: Tools of the PI Trade.
5: Getting the Scoop.
6: Skip Tracing.
7: Prowling the Courthouse.
8: Professional PI Databases.
9: Telephone Secrets You Need to Know.
10: On-the-Job Training.
11: Techniques of Interview and Interrogation.
12: The Neighborhood Investigation.
13: Stationary Surveillance.
14: Moving Surveillance.
15: Tricks of the Trade.
16: In the Field.
17: Clues to Infidelity.
18: Family Law Cases: The PI's Bread and Butter.
19: Bringing Home Runaway Teenagers.
20: The Ins and Outs of Electronic Surveillance.
21: Criminal Defense Cases.
22: Advanced Techniques.
23: Background Investigations: Uncovering the Dirt.
24: The Diligent Search: Adoption and Estates.
25: Evidence, Statements, Reports, and Bookkeeping.
26: The Judges' Chambers.
Appendixes.
Glossary.
State Requirements for Telephonic Recording.
Sample Client Retainer Contract.
Affidavit of Diligent Search.
Index.
Otherbackmatter.
About the Author.