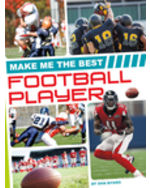 Make Me the Best Athlete: Make Me the Best Football Player
Sign in for Price
Grade Level

4th Grade - 6th Grade

Front Cover.
Title Page.
Copyright Page.
Table of Contents.
Introduction.
1: Pass Like Aaron Rodgers.
2: Run Like Le'Veon Bell.
3: Catch Like Julio Jones.
4: Tackle Like Luke Kuechly.
5: Pass Rush Like J. J. Watt.
Glossary.
For More Information.
Index.
About the Author.