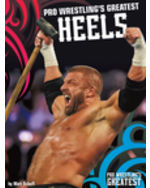 Pro Wrestling's Greatest: Pro Wrestling's Greatest Heels
Sign in for Price
Grade Level

3rd Grade - 9th Grade

Front Cover.
Title Page.
Copyright Page.
Table of Contents.
1: Introduction: No More Mr. Nice Guy.
2: Ten: "Million Dollar Man" Ted Dibiase.
3: Nine: Kevin Owens.
4: Eight: Shawn Michaels.
5: Seven: "Rowdy" Roddy Piper.
6: Six: Bobby "the Brain" Heenan.
7: Five: Ric Flair.
8: Four: Triple H.
9: Three: Cm Punk.
10: Two: "Hollywood" Hulk Hogan.
11: One: Mince Mcmahon.
Glossary.
For More Information.
Index.
About the Author.