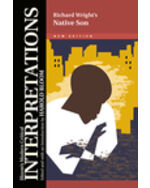 Native Son - Richard Wright, New Edition
Publisher
Chelsea House Publishers
Sign in for Price
Publisher

Chelsea House Publishers

Grade Level

9th Grade - 12th Grade

Related Series

Gale eBooks: Literature, Art & Film

Front Cover.
Copyright Page.
1: Chapters.
2: Bigger's Great Leap to the Figurative.
3: From St. Petersburg to Chicago: Wright's Crime and Punishment.
4: Misogyny and Appropriation in Wright's Native Son.
5: The Veil of Black: (Un)Masking the Subject of African-American Modernism's "Native Son".
6: Everybody's Healing Novel: Native Son and Its Contemporary Critical Context.
7: Mastering the Master's Tongue: Bigger as Oppressor in Richard Wright's Native Son.
8: The Power of Place: Richard Wright's Native Son.
9: To Blot It All Out: The Politics of Realism in Richard Wright's Native Son.
10: Spectacle and Event in Native Son.
11: Backstage and Onstage: The Drama of Native Son.
12: "A Lot Depends on What Judge We Have": Native Son and the Legal Means for Social Justice.