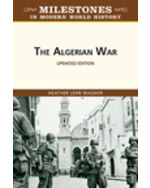 The Algerian War, Updated Edition
Publisher
Chelsea House Publishers
Sign in for Price
Author

Heather Lehr Wagner

Publisher

Chelsea House Publishers

Grade Level

9th Grade - 12th Grade

Front Cover.
Copyright Page.
1: Chapters.
2: One War Ends, Another Begins.
3: North African Conquest.
4: The French Arrive.
5: A French Colony.
6: The Seeds of Nationalism.
7: The Struggle for Freedom.
8: A Time of War.
9: The Final Struggle.
10: After the Revolution.
Support Materials.
Chronology.
Further Resources.
Bibliography.
About the Author.