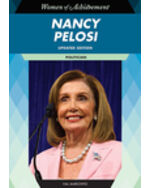 Nancy Pelosi, Updated Edition
Publisher
Chelsea House Publishers
Sign in for Price
Publisher

Chelsea House Publishers

Grade Level

6th Grade - 12th Grade

Front Cover.
Copyright Page.
1: Chapters.
2: Madam Speaker.
3: Born into Politics.
4: Rise to the Top.
5: The Hundred Hours Agenda.
6: Thawing the Middle East Ice.
7: Opposing the War.
8: "Impeachment is off the Table".
9: Breaking Through the Gridlock.
10: Rescuing the Economy and the Democratic Majority.
Support Materials.
Timeline.
Bibliography.
Further Resources.
About the Author.
Learn More About.
Women's Political Milestones.
Senator Barbara Mikulski, a Fellow Alum.
Liberals and Conservatives.
On China and Human Rights.
Support for the G.I. Bill.
Armenia: Recognizing an Atrocity.
The Person Behind the Politician.
The Iraq War.
The History of Impeachment.
What is a Veto?.
Women of the House.