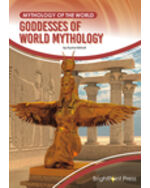 Goddesses of World Mythology
Publisher
BrightPoint Press
Sign in for Price
Publisher

BrightPoint Press

Grade Level

6th Grade - 12th Grade

Front Cover.
Title Page.
Copyright Page.
Contents.
At a Glance.
Introduction: Tiamat and Marduk.
1: Goddesses of Creation.
2: Goddesses of Birth and Motherhood.
3: Goddesses of Death and the Afterlife.
4: Goddesses and Gifts.
Glossary.
Source Notes.
For Further Research.
Index.
Image Credits.
About the Author.