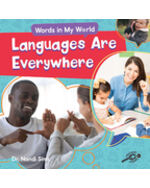 Languages are Everywhere
Publisher
Discovery Library Jr
Sign in for Price
Publisher

Discovery Library Jr

Grade Level

Kindergarten - 2nd Grade

Front Cover.
Title Page.
Before and During Reading Activities.
Table of Contents.
1: What Is Language?.
2: Two Types of Language.
3: Reading and Writing.
Photo Glossary.
Activity: Watch and Learn.
Index.
About the Author.
After-Reading Activity.
Copyright Page.
Photo Credits.