Pages

Approximately 850,000
Uncovering Women's Stories from the Voices of Women
Winner of the 2021 SIIA CODiE award: Best Library Reference or Educational Database
Voice and Vision, the second instalment of the award-winning series, Women's Studies Archive, looks beyond women's suffrage to explore critical areas of study including the abolition of slavery, alcohol and temperance movements, pacifism and political activism, domestic service, education, health and hygiene, divorce and social reform, and much more. A vast range of primary sources from 1780 to 2000 span multiple geographic regions, providing an abundance of perspectives on women's experiences and impact on society around the world. Of particular importance are the materials that focus solely on female authors or magazines and journals produced by women, not simply for women.
Much of history is focused on the male perspective, leaving women's voices unheard and their accomplishments unnoticed. Voice and Vision addresses that misjustice by providing a diverse, global perspective on women's history, including increased representation of minority groups. Primary sources concerning women from diverse backgrounds including European, African American, Indian, and Irish women as well as religious minorities such as Jewish, Muslim, and Quaker communities were specifically sought for inclusion to ensure balanced coverage.
An essential source for scholars working in women's history, gender studies, and social history, included primary sources feature personal papers of influential suffrage, socialist temperance, education and trade unionist activists such as the founder of the Women's Peace Party and the Women's International League for Peace and Freedom; magazines and journals; correspondence, diaries and journals; memorabilia and ephemera; manuscripts, printed articles, and poems; and much more.

Renowned libraries and archives represented in the collection include:

The British Library: Women's Periodicals, Women's Printing Society Publications
Swarthmore College: Anna Garlin Spencer Papers, 1878‒1931; Hannah Johnston Bailey Papers, 1858‒1923; Lydia G. Wentworth Papers, 1902‒1947; Edwin D. Mead and Lucia Ames Mead Papers, 1876‒1936; Hannah Clothier Hull Papers, 1889‒1958
New York University: Papers of Mary E. Gawthorpe, Papers of Elizabeth Gurley Flynn
The National Archives (United Kingdom): Records of the Women's National Commission, Records of the Equal Opportunities Commission
University of California, Santa Barbara: Comisión Femenil Mexicana Nacional Archives, National Network of Hispanic Women Archives, Alicia Escalante Papers
American Antiquarian Society: Monographs on and by Women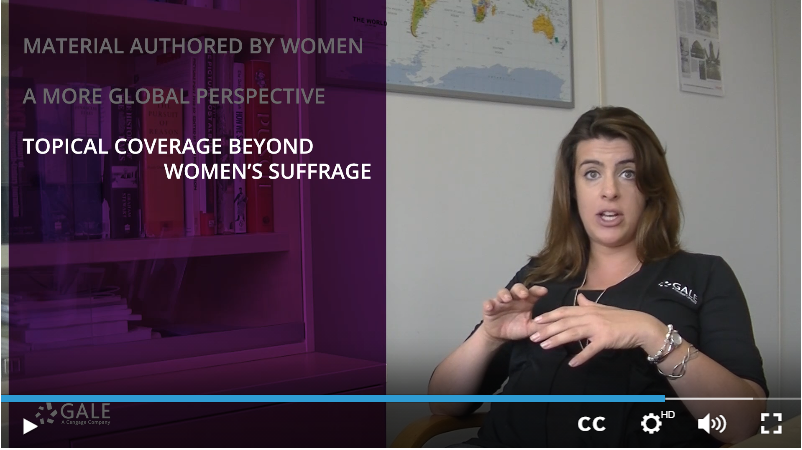 Click here to watch Rachel Holt, Acquisitions Editor for the Women's Studies Archive programme, discuss the content included in this archive, and why these collections were selected to support the research of scholars currently working in Women's Studies, Gender Studies and Social History.

Gale Primary Sources | Gale Review Blog
Archives Explored | Gale Digital Scholar Lab | Sign up for Updates

subjects covered
Gender & Women's Studies
LGBTQ
Humanities & Social Sciences
Sociology
U.S. History
World History
Current Events
Platform Features & Tools
Term Frequency
Researchers can see the frequency of search terms within sets of content to begin identifying central themes and assessing how individuals, places, events, and ideas interact and develop over time.
Topic Finder
By grouping commonly occurring themes, this tool reveals hidden connections within search terms—helping to shape research by integrating diverse content with relevant information.
Cross-Search Capability
Search across the content of complementary primary source products, including books, in one united, intuitive environment, enabling innovative new research connections.