On March 13, 2020, life as we knew it changed. K-12 educators found themselves suddenly on the front lines of a public health crisis, and though the nature of their jobs makes them singularly equipped to deal with the unexpected, challenges significantly impacted students' academic and mental well-being. Because of this, the U.S. federal government ushered in unprecedented federal funding to districts and schools. Combined with implementations of new digital resources and tools for development, more educators are beginning to look beyond the crisis, exploring opportunities to foster new growth.
Tap into ESSER Funds
The Coronavirus Aid, Relief, and Economic Security (CARES) Act determined the definitions and parameters for allowable expenses seen in all three Elementary and Secondary School Emergency Relief (ESSER) funds and designed the distribution to follow the Title I funding formula.
While all three acts consider learning an allowable use, the American Rescue Plan (ARP) Act goes one step further. It mandates that school districts "shall reserve not less than 20 percent of such funds to address learning loss through the implementation of evidence-based interventions, such as summer learning or summer enrichment, extended day, comprehensive after school programs, or extended school year programs, and ensure that such interventions respond to students' academic, social, and emotional needs and address the disproportionate impact of the coronavirus on the student subgroups described."
If your district is like others, your response efforts have or will use the first round of ESSER, the CARES Act, for immediate response and COVID-19 relief activities and resources. The second round, the Coronavirus Response and Relief Supplemental Appropriations (CRRSA) Act, allows you to earmark some funds for rebuilding and transitioning purposes. Yet, the latest round ESSER funding through the ARP Act is your district's opportunity to dream big.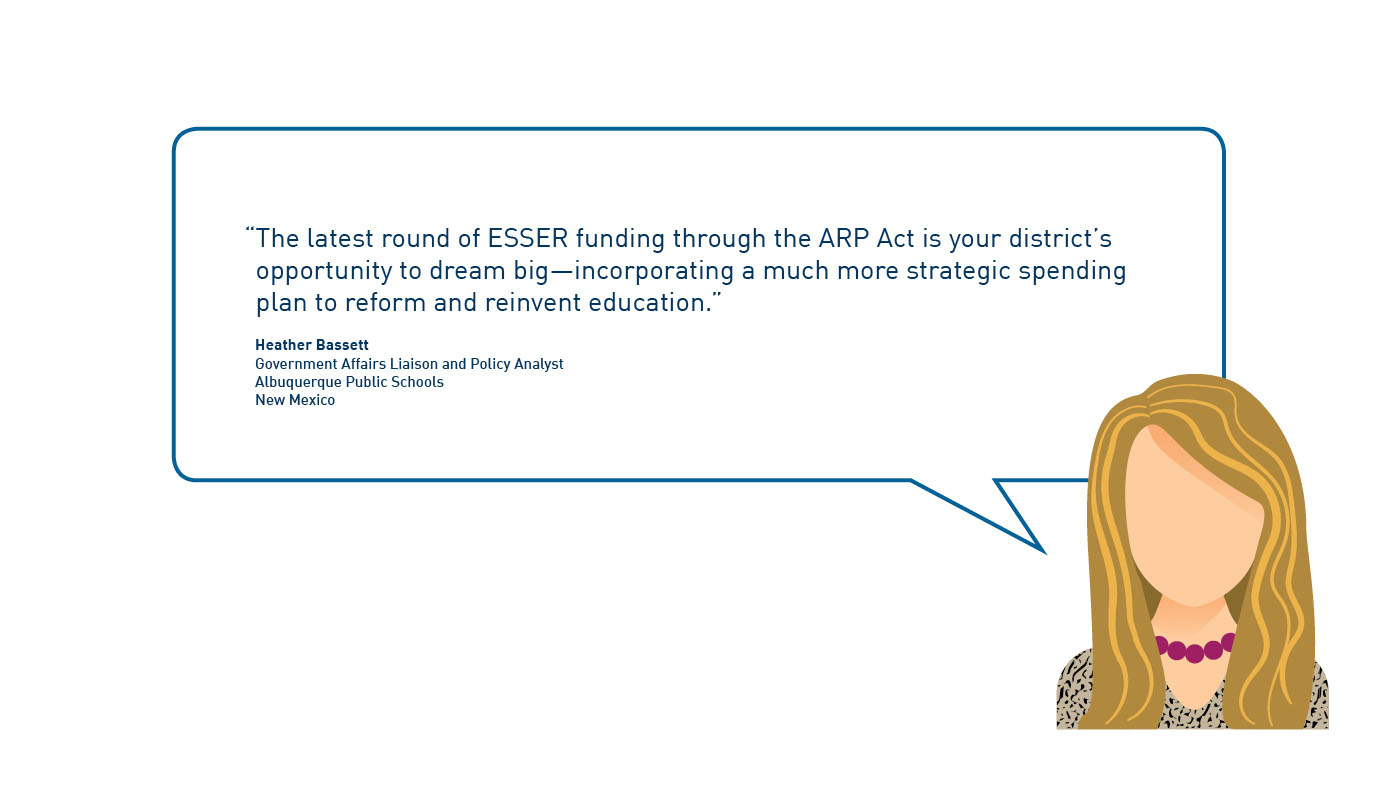 Turn to Gale for Innovative Solutions
That's why thousands of districts are turning to Gale to maximize their COVID-19 ARP ESSER funds with digital K-12 resources that support unfinished learning, social and emotional learning (SEL), and more.
For schools, Gale's mission is to help students succeed in school and in life by connecting K-12 students to the curriculum-aligned digital content they need to become lifelong learners. Because student success begins with teacher success, educators are at the heart of everything we do. We provide instructional materials that make it easier for educators to meet students where they are, while the educators themselves experience professional growth and prioritize their own self-care.
Today, this includes supporting everything from unfinished learning and SEL to prioritizing equity and inclusion goals. Together, we can foster an environment where schools and students are encouraged to thrive, not just survive.