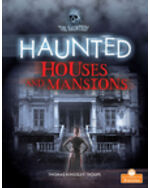 Haunted Houses and Mansions
Publisher
Crabtree Branches
Sign in for Price
Author

Thomas Kingsley Troupe

Publisher

Crabtree Branches

Grade Level

3rd Grade - 5th Grade

Front Cover.
Title Page.
School-to-Home Support for Caregivers and Teachers.
Table of Contents.
1: Home Scary Home.
2: Villisca Murder House.
3: Borley Rectory.
4: Höfdi House.
5: The White House.
6: Biltmore Mansion.
7: Morgan House, India.
8: Raynham Hall.
9: Winchester Mystery House.
Conclusion.
Glossary.
Index.
Websites to Visit.
About the Author.
Copyright Page.
Photo Credits.