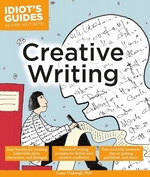 Idiot's Guides: Creative Writing
Sign in for Price
Grade Level

9th Grade - 12th+

Related Series

The Budding Writer
Be the go-to for The Beginner
eBook Titles for The Beginner

Front Cover.
Other Frontmatter.
Title Page.
Copyright Page.
Contents.
Introduction.
1: You, the Writer.
2: Reading and Writing.
3: Compelling Craft.
4: Dynamic Details.
5: Speech, Voice, and Point of View.
6: Energetic Figures of Speech.
7: Convincing Character Voice.
8: Influential Point of View.
9: Character, Setting, and Types of Stories.
10: Magnetic Characterization.
11: Potent Setting.
12: Plot/Story, Struggle, and Connections.
13: Short-Form Genres.
14: The Masterful Essay.
15: The Lifelike Short Story.
16: Short and Sweet Flash Fiction.
17: The Arresting Poem.
18: The Believable One-Act Play.
19: Long-Form Genres.
20: The Realities of Nonfiction and Memoir.
21: The Longer Story: The Novel.
22: The Play and Screenplay People Want to Watch.
23: The Seamless Book of Poetry.
24: The Collective Book of Essays/Stories.
25: Drafting, Researching, and Editing.
26: Drafting and Structuring.
27: Empowering Research.
28: Revising and Editing.
29: Getting Published.
30: Finding Agents and Publishers.
31: Publishing Your Work.
Appendix A: Glossary.
Appendix B: Resources.
Appendix C: Prose Examples.
Index.
About the Author.