Introducing Gale OneFile: Australia and New Zealand
This new collection provides the authoritative, continuously updated content users have come to expect from Gale OneFile, curated to focus on issues and current events related to Australia and New Zealand.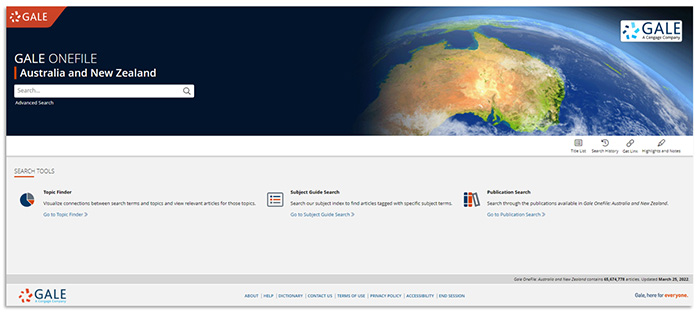 What's Inside?
Millions of articles, in full text, from a variety of magazine, journal, and news sources, supplemented with timely and relevant multimedia resources, including audio, video, and images.
Coverage across academic disciplines and areas of interest, including arts and humanities, business, health and medicine, history and current events, and social sciences.
Superior indexing, optimized search results, and popular Omni platform features—including accessibility tools, document translation, Google/Microsoft integration, and Topic Finder.
Cross-searchable with OneFile, In Context, Literature, and eBooks via Gale Power Search.
What Problem Does This Solve?
Customers in Australia and New Zealand now have access to a curated collection of 800+ periodical resources targeting news, academic research, and general-interest stories that are relevant to the region. Gale OneFile: Australia and New Zealand can be offered as a standalone product, or bundled with other Gale OneFile resources to expand and enhance the regional perspective.