METHODOLOGY
We began our study in Gale's Digital Scholar Lab, utilising the ability to search through all Gale archives and create a content set to analyse.
The name "Atatürk" was ascribed to Mustafa Kemal after the founding of the Republic. However, as we wanted to investigate the role of Atatürk leading up to this moment, as well as after, we searched on both "Mustafa Kemal" and "Mustapha Kemal" as well as "Atatürk" to allow for alternate spelling conventions of his name. This ensured that we captured any documents published prior to the founding of the Republic in our research.
We used the 'Advanced Search' feature to identify all documents within Gale's archives that referenced Atatürk. To avoid finding documents that were irrelevant to our study, we crossed-searched Atatürk's name variations with keywords such as "Turkey", "Young Turks", "Sultan", and "republic", which narrowed down our search results.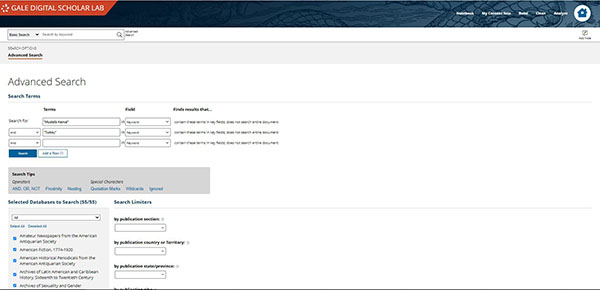 We retrieved 848 unique pieces spanning from 1919 to 2019 that covered the conflicts within and reactions to the Turkish War of Independence, Atatürk's demands and aims for Turkey, and the establishment and legacy of the Republic. Additionally, ordering them by date allowed us to investigate them chronologically too.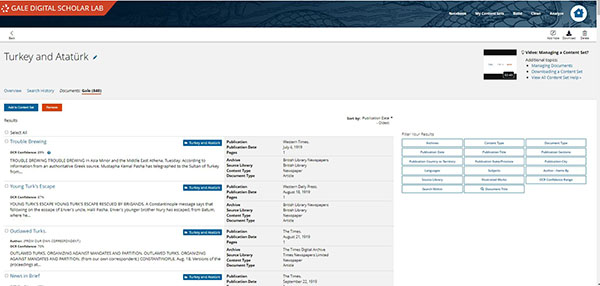 It is important to note that the documents used in this study were from British, US, and Western European sources. After the First World War, European powers, including Britain and France, divided the regions of Ottoman territory between themselves, and these would become key places fought over during the Turkish War for Independence. Therefore, we had to consider their role in the conflict when analysing the views portrayed in these sources.